Another successful annual symposium took place at the conference center De Werelt in Lunteren between 12th and 13th June. Excellent scientific talks were complemented with beautiful weather, networking and NVGCT's own legendary pub quiz.
This year's symposium again offered a two-day program including two interesting keynote lectures, five interesting sessions with various talks on different scientific subjects ranging from cardiac diseases to gene and cell therapies and RNA & DNA editing, presentations from sponsors representatives from the industry, the ZonMw Investigator Speed Date Challenge and the NVGCT Outstanding Achievement Award lecture.
Firstly, we would like to thank our sponsors for their generous support, without which organizing of this symposium would not be possible: Greiner Bio-One, ZonMw, Thermo Fisher Scientific, Eurofins, Twist BioScience, Bio-Techne, NecstGen, Chemometec, Cytiva, Bio-connect, Miltenyi Biotec and BioLamina.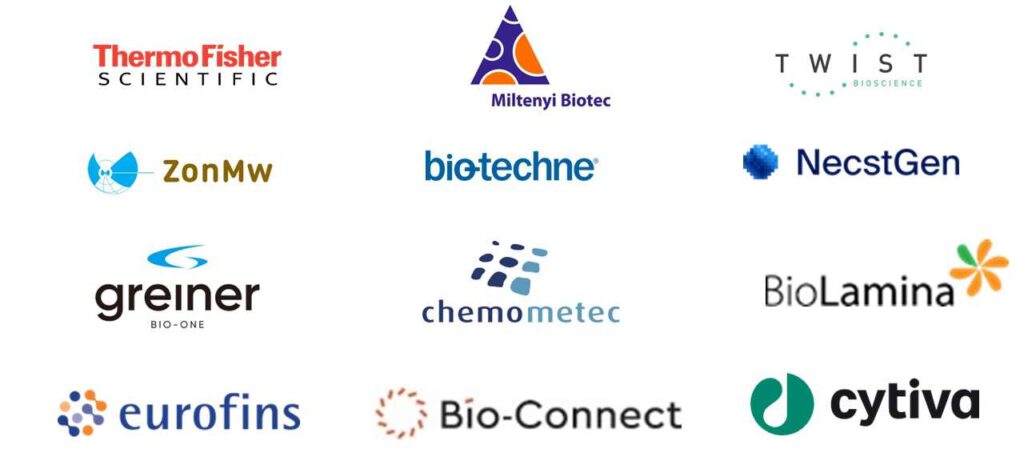 The meeting was opened by the NVGCT president Prof. dr. Victor W. van Beusechem, who summarized gene and cell therapy developments from the past year. Afterwards, the first keynote lecture took place and was presented by Dr. Maria Themeli (Amsterdam UMCs) with title "Next generation of CAR T cell therapy: improved efficacy and availability". This lecture introduced a novel approach for arming T cells for stronger immune responses and increased in vitro anti-tumor cytotoxicity.
Following the keynote lecture, representatives of different exhibitor companies pitched their products and services with a focus on clinical trial accreditation and compatibility.
The first scientific session was focused on Gene Therapy, where speakers presented several topics ranging from capsid modification of AAV-mediated gene therapy for rare bleeding disorders, to introduction of human NSCLC tumor models on fertilized chicken eggs, and gene therapy for vanishing white matter.
The first session was followed by the favorite and exciting ZonMw Young Investigator Speed Date Challenge led by Dr. Jan Theys. Several potential collaborations were formed, combining the expertise of each individual to compile a feasible, out-of-the box and attractive project. If selected, they will pitch the proposal for potentially winning 5000€, allowing them to realize the project and attend an international conference. Attendees got the chance to hear the representative from the last year's winners present their update on the project, showing the challenges of science and their approach on how to overcome them.
After a delicious, sun-filled lunch, the symposium continued with the second session addressing Cell Therapy, looking at different therapy approaches for lysosomal disorders, how healthy primary pericytes have an effect on 2D myogenic cell model for myotonic dystrophy, a new approach introducing stem-cell derived NK cells, and comprehensive QC and integration site analysis of genetically modified T cells.
Following a coffee break, Dr. Melissa van Pel (Necstgen) presented updates on process development and testing strategy for cell and gene therapies and GMP production and Drs. Amiet Chhatta (Thermo Fisher Scientific) introduced solutions for cell and gene therapy in closed cell therapy manufacturing and viral vectors. The program of the day was ended with the NVGCT General Assembly, where Dr. Sabine van der Sanden and Prof. dr. Victor van Beusechem were unanimously voted to continue another 3 years as board members. Dr. Ingrid de Visser-Kamerling unfortunately has decided to step down from the board. We thank her for her contributions to the board and the society! Furthermore, Dr. Fréderique de Graaf has been voted to be a new addition to the NVGCT board, congratulations!
A delicious BBQ dinner started the evening program, with the famous NVGCT pub quiz as the main star, led by Dr. Jan Theys and Quizmaster-in-training Dr. Ingrid de Visser-Kamerling. Six teams competed for the coveted title of the winners of the NVGCT Pubquiz; "Dutch Mafia" ranked 3rd place, "Going Viral!" were in the 2nd. The winners this year were the "Brussel Sprouts", winning the eternal fame, congratulations!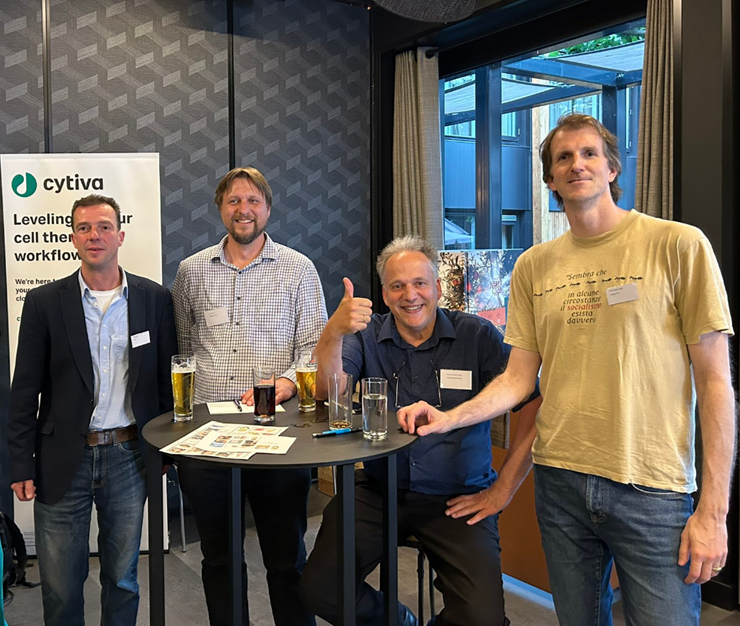 The next day's program was kicked off by announcing two teams selected from the Speed Date Challenge to prepare their pitch, followed by a second keynote lecture delivered by Prof. Dr. Alberto Auricchio (TIGEM, Naples) on "ExpEditing AAV gene therapy". This lecture provided participants with background as well as future approaches towards using AAVs for gene editing.
The keynote lecture was followed by a session on Cardiac Diseases, looking at gene and cell therapies for cardiac arrhythmias, treatment of cardiac conduction disorders or transcriptional optimization. The subsequent session on DNA & RNA editing introduced novel non-coding therapeutic targets for inherited blindness and CRISPR-Cas therapy towards a cure for HIV/AIDS.
The Greiner Award for Best Thesis 2022 was then awarded to Dr. Thilo Buck for his thesis on the development of a therapeutic strategy and models for CRB1-associated retinal degradation. Congratulations!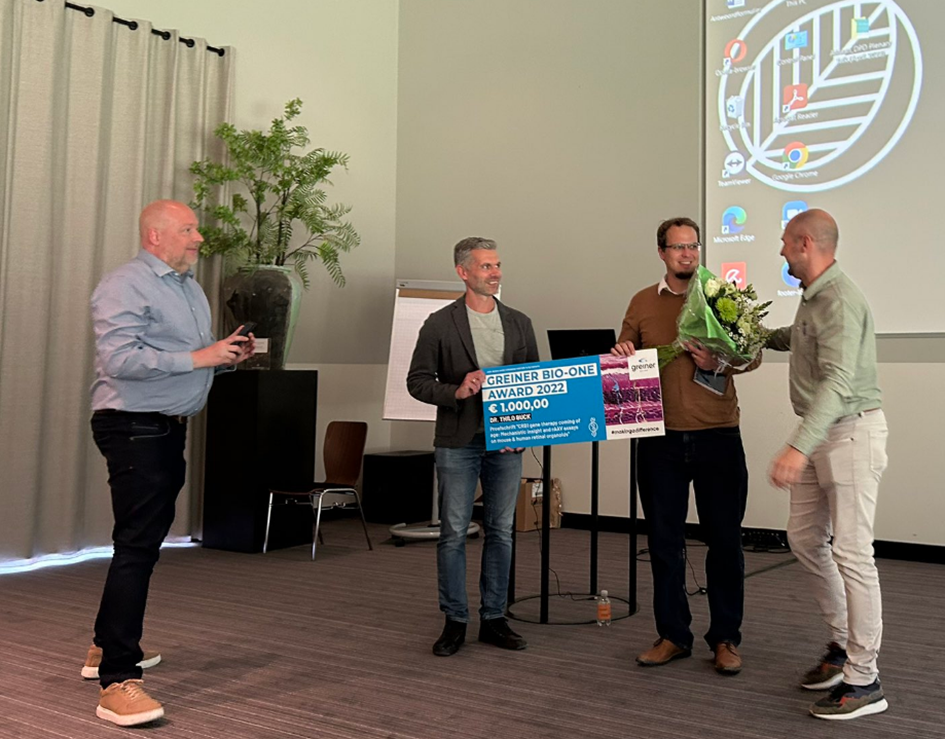 After lunch, the final session of this symposium focused on cancer. It further looked at the results of the RESTART study, modeling spatial dynamics of oncolytic virotherapy, introduced a novel oncolytic adenovirus, showed how anticancer Clostridium sporogenes colonizes 3-dimensional tumor spheroids, presented near-patient models for pancreatic cancer for evaluation of oncolytic viruses efficacy and finally showed Zeb1 downregulation to be responsible for sensitizing pancreatic cancer-associated fibroblasts to killing by oncolytic reovirus. The closing keynote lecture was this year given by the winner of the 2023 NVGCT Outstanding Achievement Award – Prof. dr. Thierry VandenDriessche (Free Brussels University, Brussels). Prof. dr. VandenDriessche presented a fascinating talk on "Towards a cure for hemophilia: 30 years in the making". NVGCT would like to congratulate prof. dr. VandenDriessche and wish him many more successful years in his career.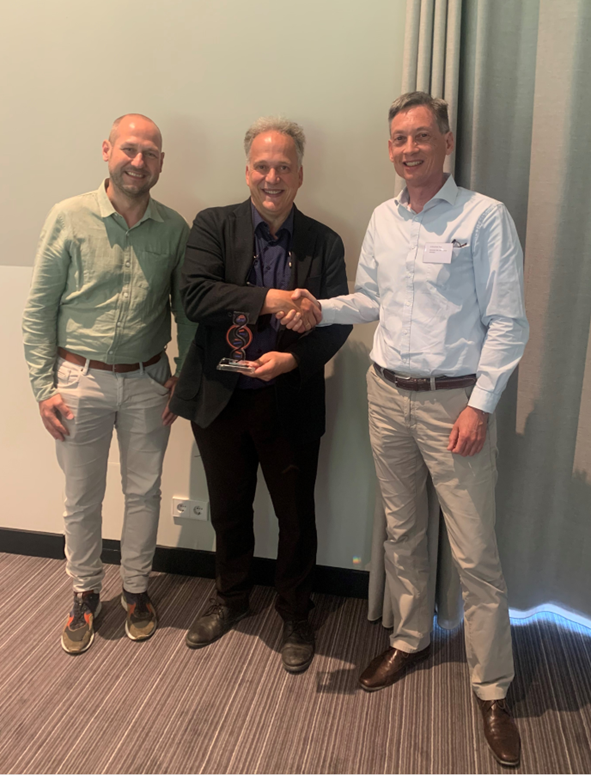 After the delivery of two great pitches as part of the Speed Date Challenge, this year's winners were Merve Yildriz & Julia Minnee, winning 2500€ each for their project "Going 'in' for the kill: making tumors hot again" by combination of anticancer Clostridium sporogenes and CAR-dendritic cells. And the winner of the Thermo Fisher Best Abstract Award this year was Dr. Renee Raaijmakers (Radboud UMC) with her abstract named "Healthy primary pericytes mitigates disease characteristics in a 2D myogenic cell model for myotonic dystrophy". Congratulations to all!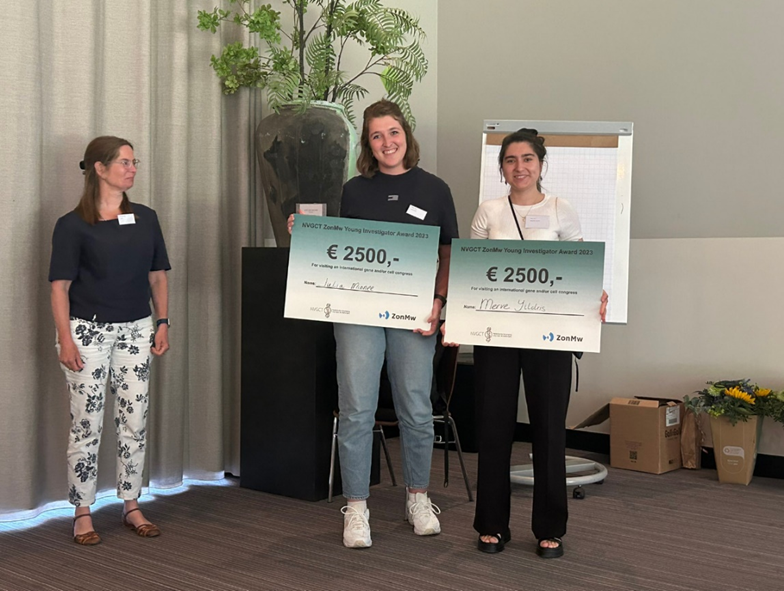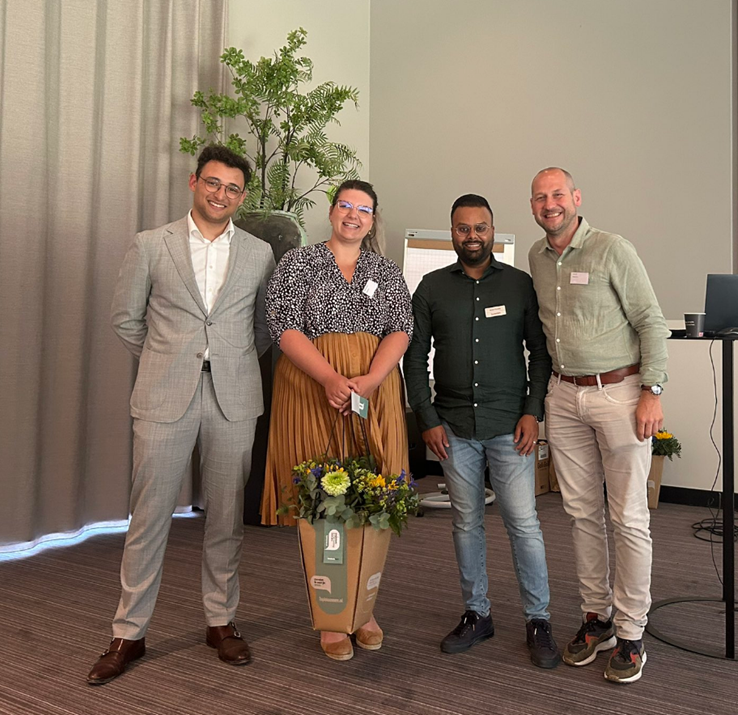 With that, this year's symposium came to an end, however we all hope to see everyone again next year!
This summary was provided by Tereza Brachtlova.
The program and abstract book of the 2023 symposium can be downloaded here.