This year's annual symposium took again place at the conference center De Werelt in Lunteren between 15th and 16th June, which was met with warm approval from the participants, preferring the summer weather.
Aside from the beautifully refurbished hotel, NVGCT offered all the favorites, including two exciting keynote lectures (one from this year's NVGCT Outstanding Achievement Award laureate), five interesting sessions with various talks on different scientific subjects ranging from models to different flavors of gene and cell therapeutics, presentations from sponsors representatives from the industry and much more.
Firstly, we would like to thank our sponsors for their generous support, without which organizing of this symposium would not be possible: Greiner Bio-One, ZonMw, Thermo Fisher Scientific, European Society of Gene & Cell Therapy (ESGCT), Twist BioScience, GenScript, ExoVectory, ChemoMetec, Bio-Techne, Tebu-Bio, NanoFCM, Miltenyi Biotec, ProPharma Group and Eurogentec.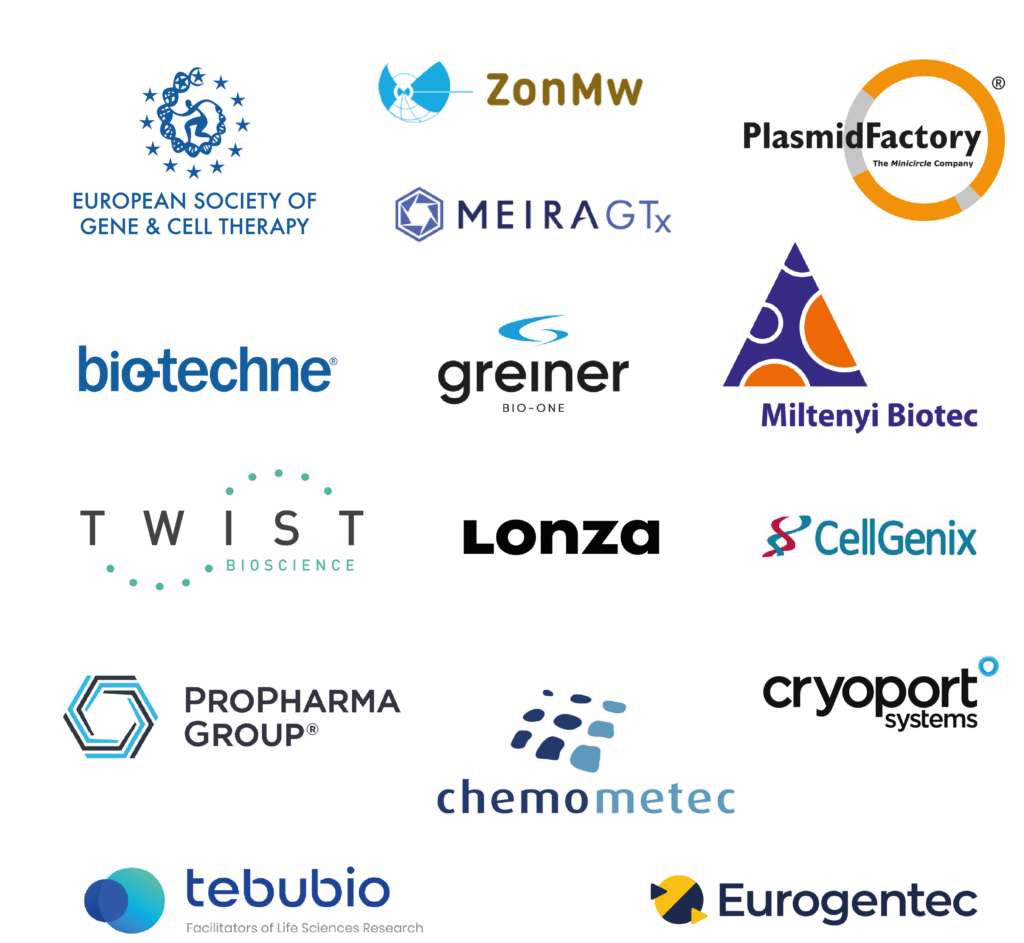 The meeting was opened by the NVGCT president Prof. dr. Victor W. van Beusechem, who summarized gene and cell therapy developments from the past year. Afterwards the first keynote lecture took place and was presented by Prof. Kleopas Kleopa (The Cyprus Institute of Neurology & Genetics, Nicosia) with title "Gene replacement or gene silencing to treat demyelinating CMT neuropathies". This lecture comprehensively summarized specific gene mutations responsible for demyelination and promising novel approaches for the treatment.
Following the keynote lecture, representatives of our valued sponsors pitched their products and services, offering a wide assortment of products and services with a focus on clinical trial accreditation and compatibility.
The first scientific session was focused on Cancer Therapy, where speakers presented several topics ranging from immune cells and tumor microenvironment modification, to validation of bacteria-mediated cancer therapies, and establishment of Dutch infrastructure for cancer-specific ATMP research.
After the first session, the Greiner Award for Best Thesis 2020 & 2021 was awarded to Dr. Renske ten Ham for her excellent work with title "Development, market authorization and market access of gene and cell-based therapies". Congratulations!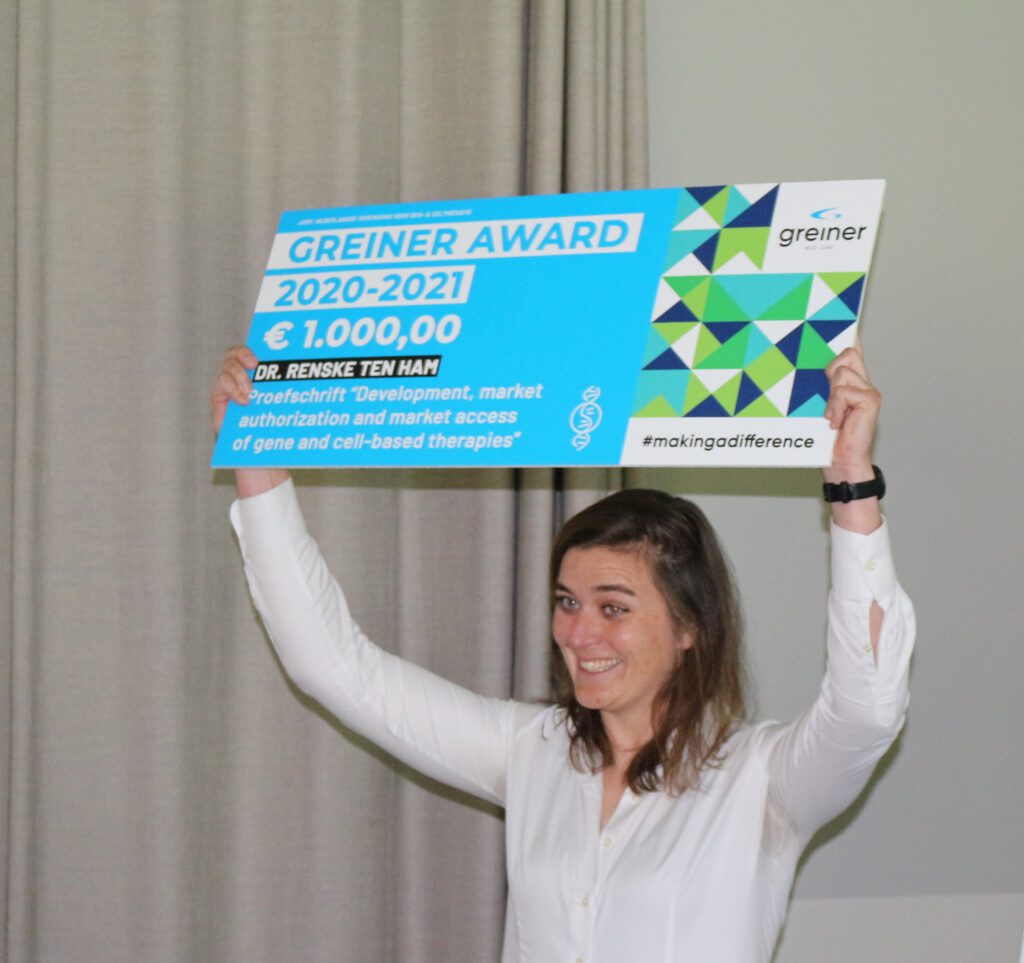 Lunch in the sun replenished energy of participants for the parallel program. The first part, where young participants were taking part in, was the now iconic ZonMw Young Investigator Speed Date Challenge led by Dr. Jan Theys. A total of five potential collaborations were formed, combining the expertise of each individual to pitch a feasible, out-of-the box and attractive project. If selected, they will pitch the proposal for potentially winning 2 500€, allowing them to realize the project and attend an international conference.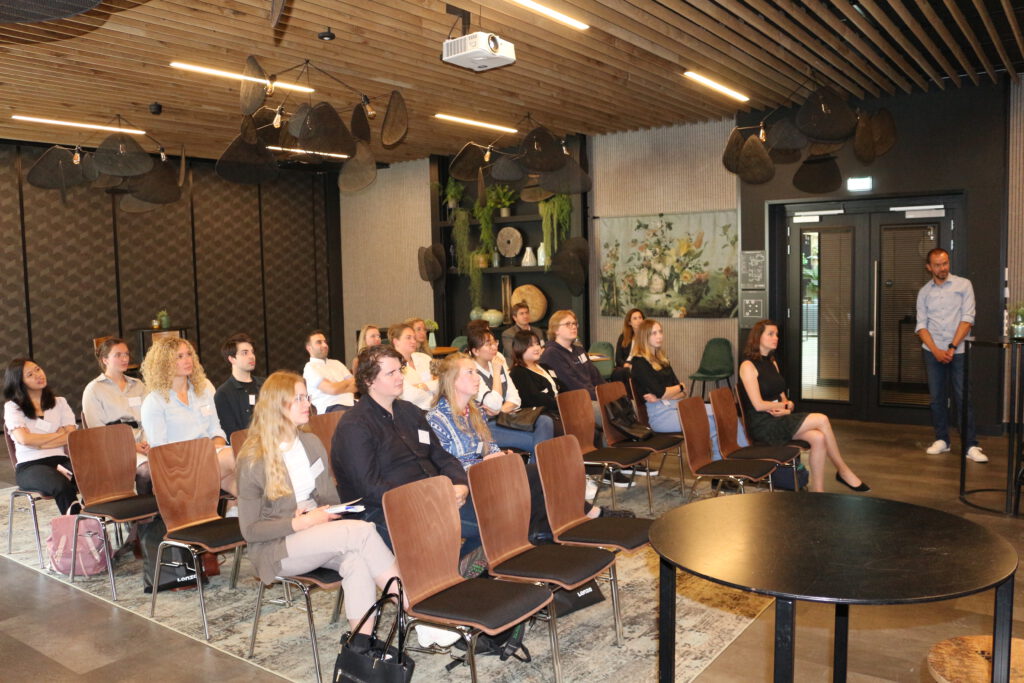 In the parallel session, NVGCT participants were meeting patient representatives. Three talks were given for attending patients and patient representatives, informing them about the potential of gene and cell therapy and the progress in that field.
After the coffee break, dr. Sabine Fuchs of the Wilhelmina Children's Hospital in Utrecht gave a keynote lecture jointly organized by the NVGCT, VSOP and Spierziekte Nederland with the title Prime Time, in which she shared her results on prime editors as potential tools to cure devastating metabolic diseases of the liver.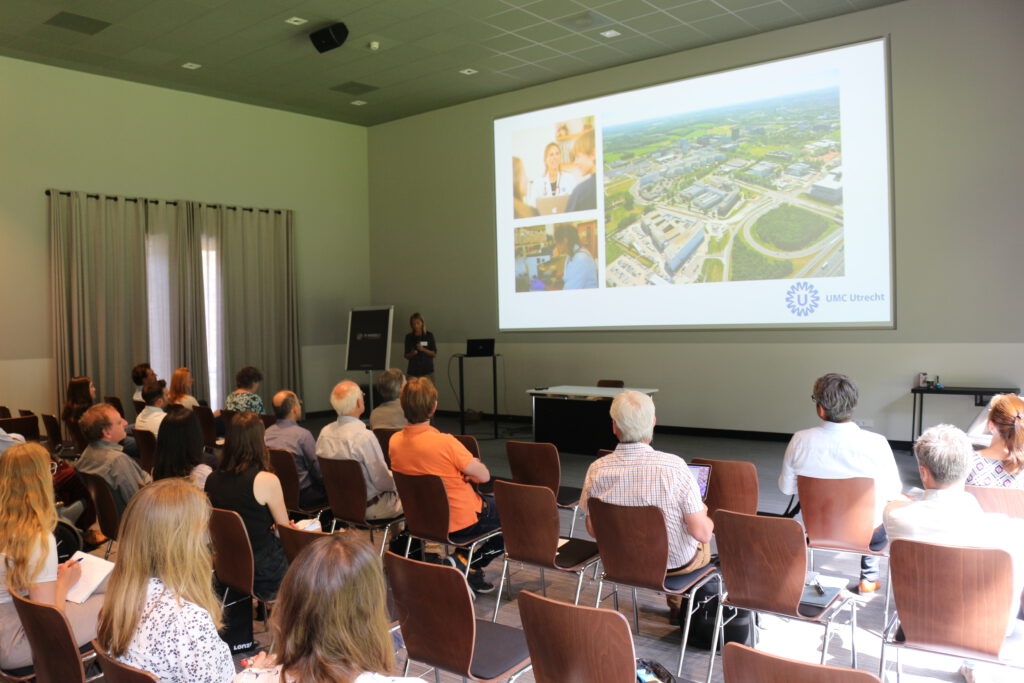 Final program of the day was the NVGCT General Assembly, where Dr. Rob Collin, Prof. dr. Enrico Mastrobattista, and Dr. Jan Theys were unanimously voted to continue another 3 years as board members. Furthermore, Dr. Vera Kemp has been voted to be a new addition to the NVGCT board, congratulations!
Dinner in the form of a delicious BBQ was followed by the famous NVGCT Pubquiz, led by Quizmaster Dr. Jan Theys and Quizmaster-in-training Prof. dr. Enrico Mastrobattista. Six teams again competed for the coveted title of the winners of the NVGCT Pubquiz; for the first time in history the scores were the closest between the competing teams. "Go hard or go home" finished 6th due to a small technical mistake (we are sorry), "Black Diamonds" were 5th, "Juicy Genes" ranked 4th (and with that the NVGCT president's winning streak was broken). "Free for all" and "Terminators" were both in the 2nd place with the same amount of points. The winners this year were the "Monkeys"!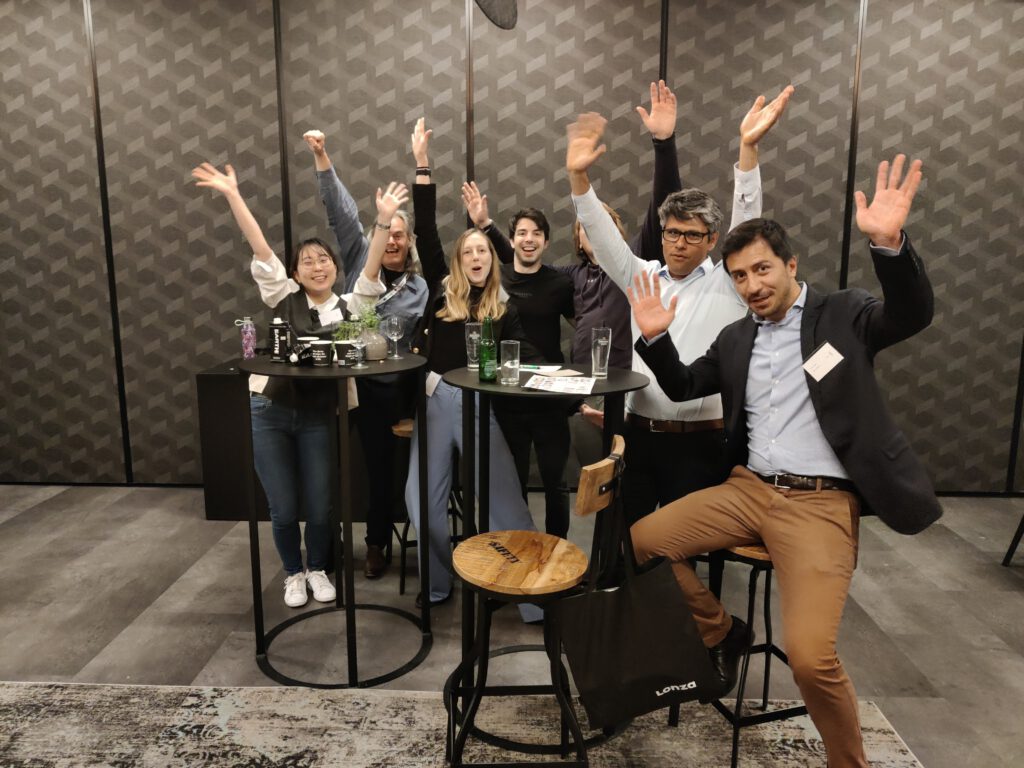 The next day's program was kicked off by announcing three teams selected from the Speed Date Challenge to prepare their pitch, followed by sessions on immunotherapy and gene delivery. The subsequent session on gene therapy product development within industry introduced participants to a novel spin-off company focusing on exosomes, described the journey of Elicera Therapeutics and showed the development of the T-cell engineering platform for fully individualized neoantigen-specific TCR therapy.
Before lunch, the last year's Speed Date Challenge winners Dr. Irene Vázquez Domínguez and Marieke Roefs showed their preliminary results, confirming that exosomes can be isolated from tears, and therefore could potentially be used as markers for inherited retinal diseases. Then this year's finalists pitched their proposals; the winners were Selas Bots, Jella van de Laak and Leon Potgeter with their interesting proposal to use the combination of oncolytic viruses and bacteria in organoid models. We are excited to see their results next year.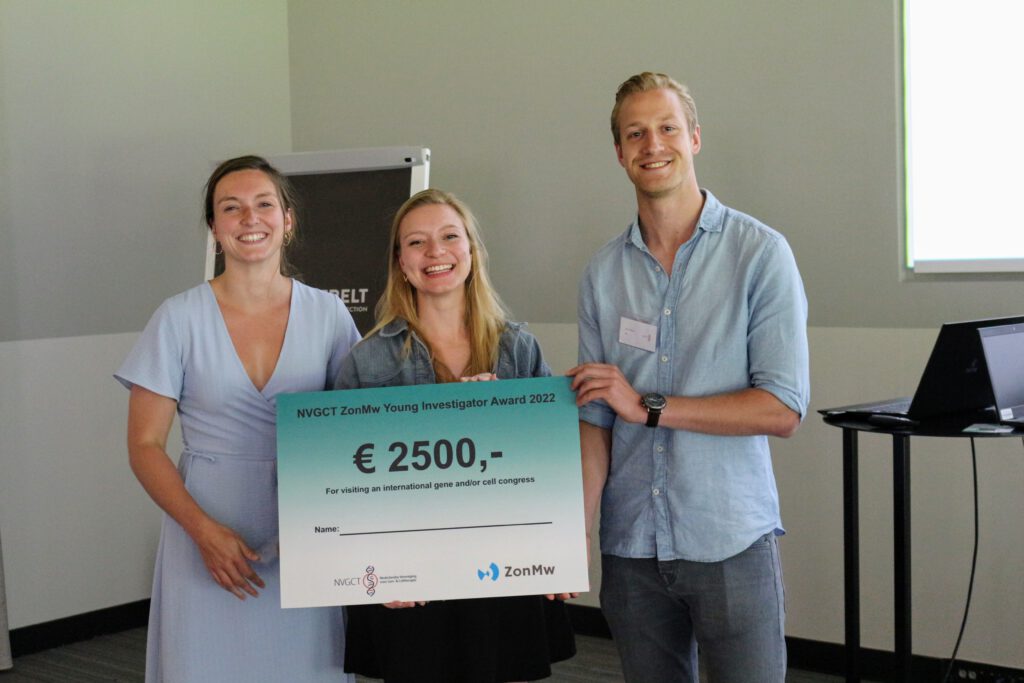 After lunch Simona Guidi (ProPharma) explained how a promising ATMP candidate can be turned into a medicinal product, then the final session focused on DNA & RNA editing showed different approaches how editing can be done with the help of alternative splicing, CRISPR-Cas9 or antisense oligonucleotides. Then the winner of the ESGCT Best Abstract Award this year was Dr. Dyah Karjosukarso (Radboud UMC) with her abstract named "Towards clinical application of antisense oligonucleotides for the treatment of Stargardt disease". Congratulations!
Closing keynote lecture was this year given by the winner of the 2022 NVGCT Outstanding Achievement Award – Prof. dr. John van der Oost (Wageningen University, Wageningen). Prof. dr. van der Oost presented a fascinating talk on "CRISPR-Cas9 – from bacterial defense to gene & cell therapy". NVGCT would like to congratulate prof. dr. van der Oost and wish him many more successful years in his career.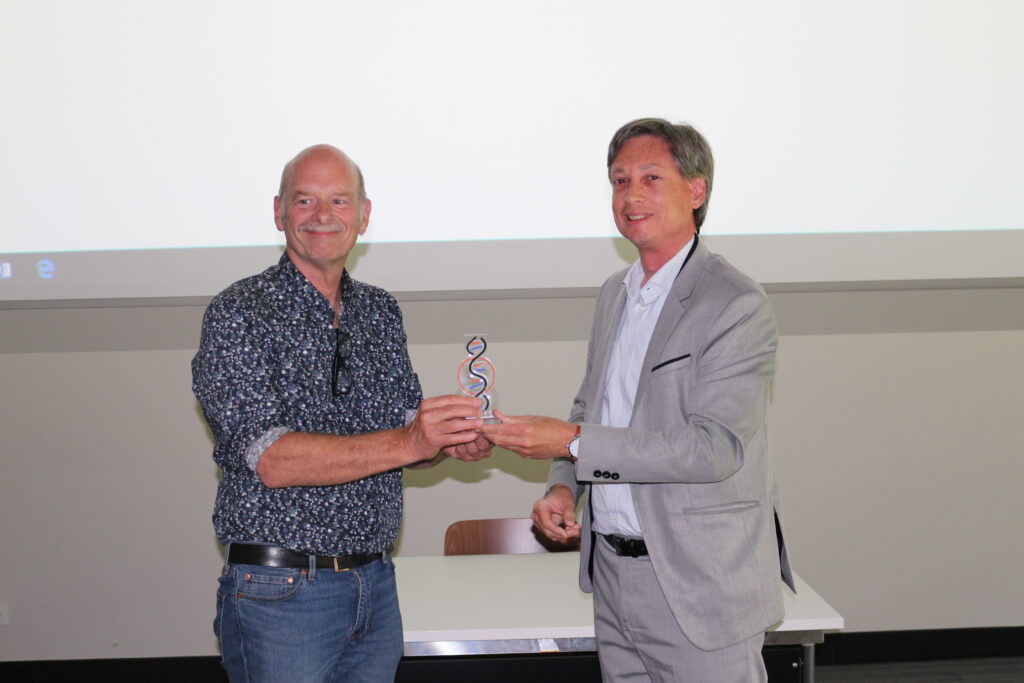 With that, this year's symposium came to an end, however we all hope to see everyone again next year!
This summary was provided by Tereza Brachtlova.
The program and abstract book of the 2022 symposium can be downloaded here